Shopping Cart
Your Cart is Empty
There was an error with PayPal
Click here to try again
Thank you for your business!
You should be receiving an order confirmation from Paypal shortly.
Exit Shopping Cart
Fun Art Professor
Inspiring & Nurturing Creativity in Young Chidren
"The purest and most thoughtful minds are those which love color the most. "  - John Ruskin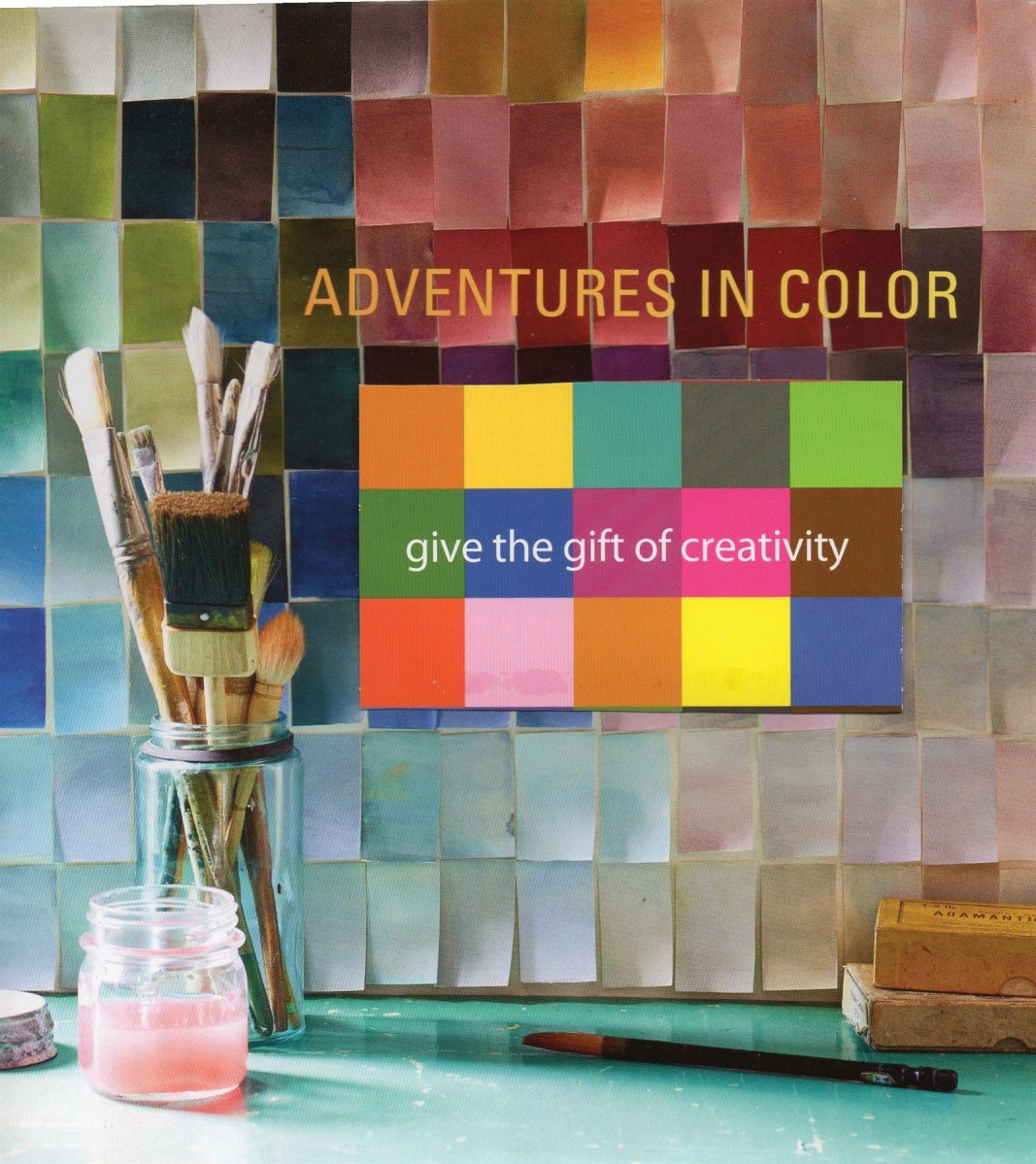 A character on a short lived television comedy titled,
Welcome to New York,
remarked on that city's clothing style saying, "We wear black. And that's only until they invent something darker". 
 
 
I lived near Miami for 3 years. When we first moved there from New York, my wardrobe truly did consist of mostly black, brown and tan. (and that was my summer wardrobe)  My husband looked at me one day and said, "You need to get some colorful clothes."
He was right.
After that point, I began to revel in the myriad of color in South Florida, not only in the peoples' wardrobes, but also in the almost endless blue skies and the colorful flora & fauna.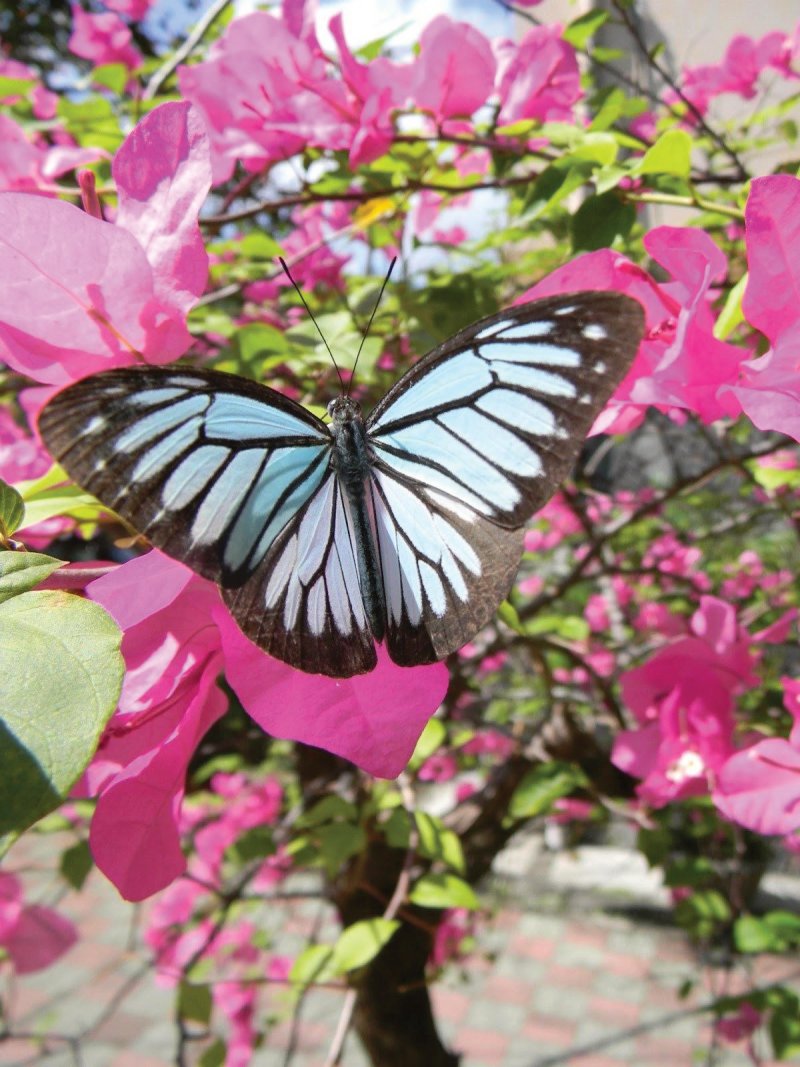 Our yard was a sanctuary to butterflies that were attracted to the nearly year long blooming, hot pink Bougainvillea bushes and the deep purple Mexican Petunias.
Flocks of wild green parrots regularly flew over our house.
When we moved back to New York in January 2012, I felt starved for color. I found myself rifling through the racks at Target, looking for winter scarves that would afford me the opportunity to layer, at least a hint of brightness, on top of my "back in New York" black winter jacket.
Color Excites
Remember that feeling as a child, when breaking open a brand new box of crayons?
I had that same inner gasp as I spied our first spring flowers valiantly braving the cold, popping out against the dull brown dirt and bark.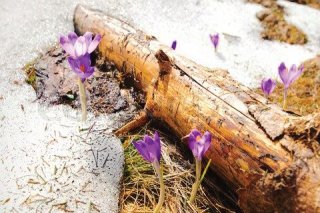 It is a worthy goal to work at bringing more color into your child's life.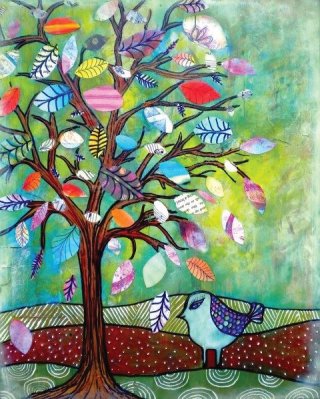 Spring Cleaning for the Imagination
I came upon this beautiful watercolor by Robin Meade soon after writing my last blog post about coaxing spring along. 
Inspired by Robin's patterned leaves, I realized you could get a similar effect by cutting leaf shapes out of colorful catalog images and glue-sticking them onto the bare winter branches.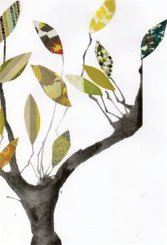 (see instructions on how to create the tree branches in the previous post, "Spring, Where Are You ?")
You can also incorporate "shape" lessons for a younger child by cutting out squares, triangles or circles to apply to the branches for an abstract tree.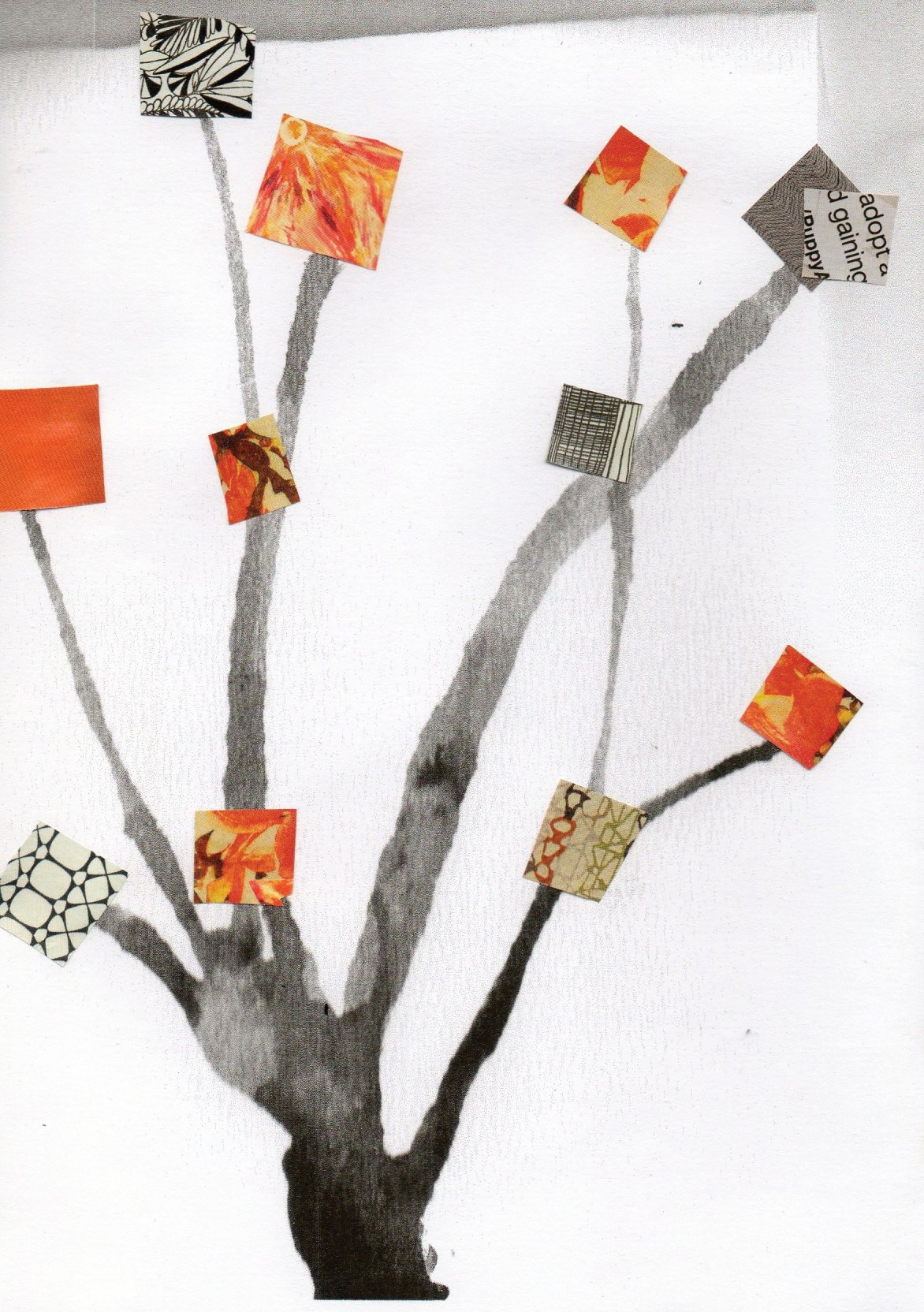 Catalogs are blooming with bright spring shades right now!
Bring more color into your creative time with your child by cutting out colorful images from catalogs and magazines for future use in collaging projects.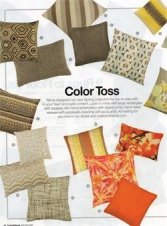 (Hint - if you do this, store the cut outs in a designated box so they don't make a clutter mess of your house.)
See if your child can spot which pillow patterns I cut out to make the leaves on the trees.
A Variation
Karen Wojcinski, an elementary art teacher passed along this idea.
Karen shared, "I do a similar project with my kindergarten. I show them a picture of Van Gogh's beautiful apple tree, and a bit more of Van Gogh's work. We then do the finger paint dipped technique using white and a little magenta paint." 
Beautiful!  Thanks, Karen, for the great idea. 
Spring came slowly to the Northeast in 2013.
Wanted posters starting circulating on Facebook for Punxsutawney Phil – the crime – FRAUD.
Mother Nature's April Fool's joke was a night time low of 32 degrees with a wind chill in the teens.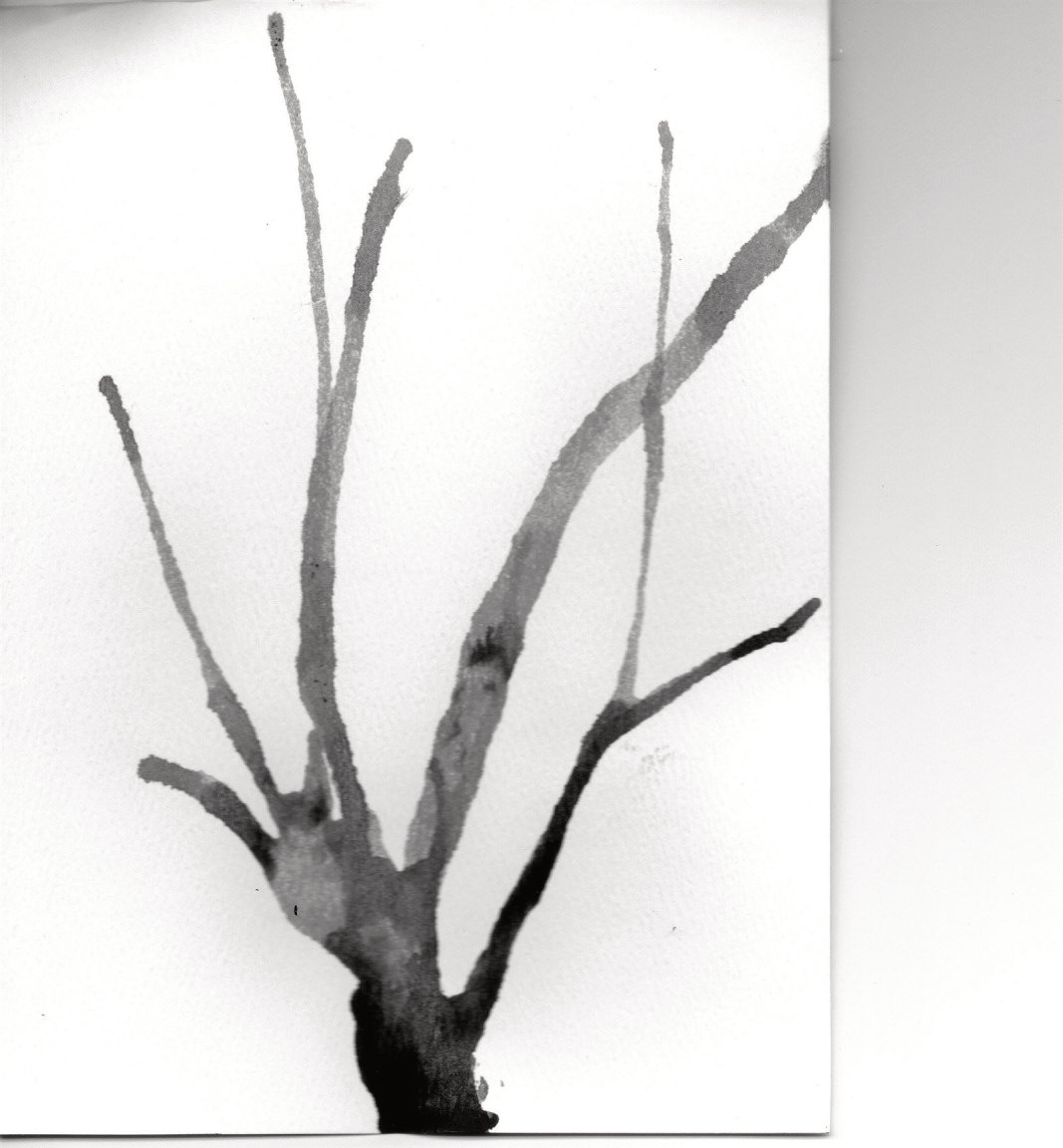 Bare black branches of the trees still stood out against white skies that promised some form of precipitation.
Two days before Easter Sunday, I excitedly exclaimed that I saw little green leaves beginning to sprout on a bush next to the front of our house.
Then, I realized that it wasn't new growth. It was the remains of a near total stripping of our holly bush by a family of deer that had been coaxed in that direction by a bag of salt on our porch, meant for de-icing the sidewalk.
An Artful Activity to Encourage Spring Along
Let's pretend we can take an active part in helping speed Spring's arrival. Even if it doesn't work, at least we will have distracted ourselves away from the feelings of cabin fever for a little while.
The winter tree image on this post is done by a technique known as
"straw painting".  This technique is super easy & super fun for anyone,
 age 2 and above. 
1. Mix a few drops of black acrylic paint, also known as craft paint,
    with 2-3 tablespoons of water.
2. Cut a piece of watercolor paper in half or into fourths.
 (The cutting is merely for economy sake. You can do straw painting on regular white paper or construction paper, but the effects are not as nice.)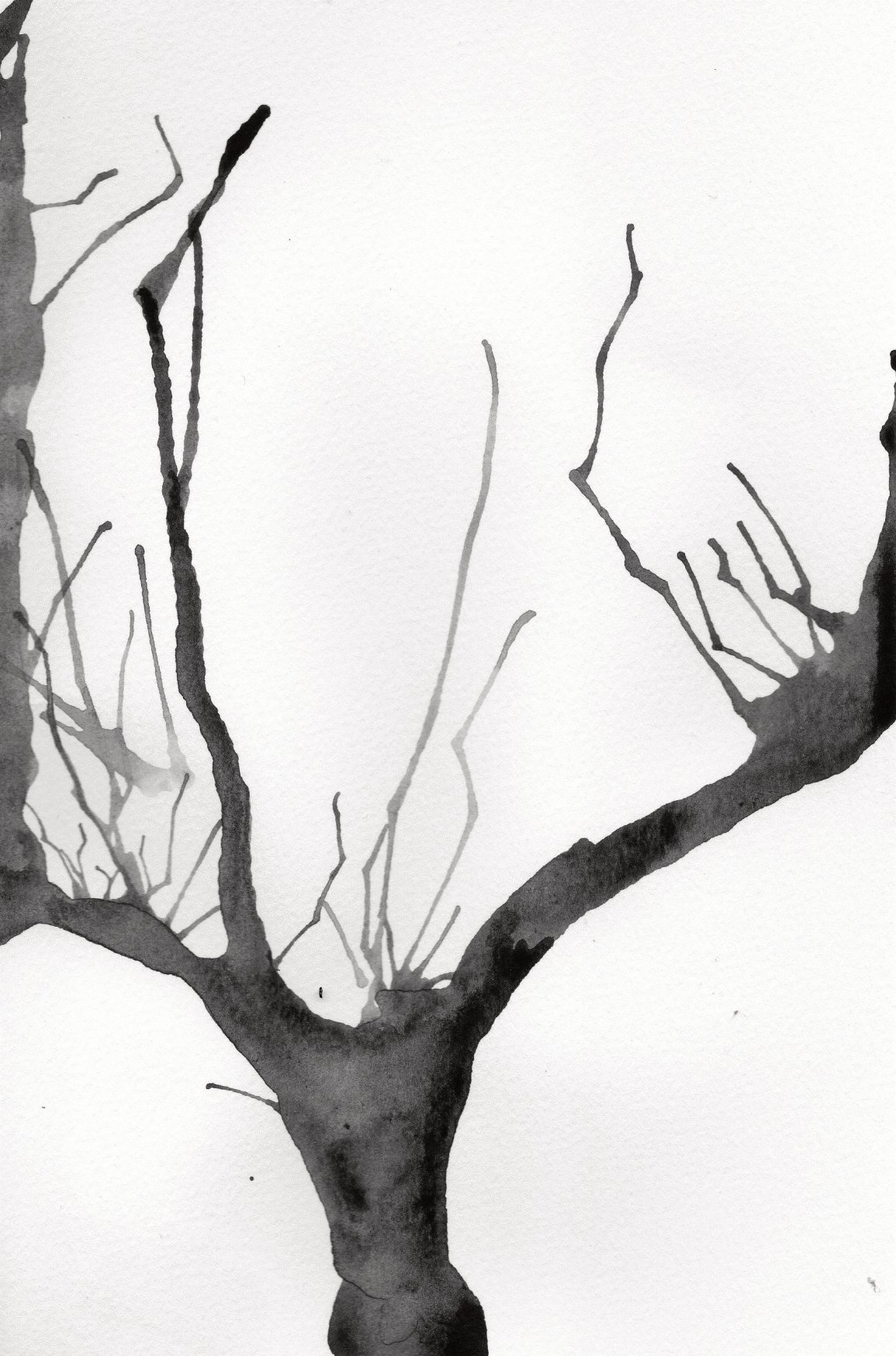 3. Drip a few drops of the blackened water at the bottom of the paper. This will form the trunk of the tree.
4. With a straw, blow upwards towards the top of the paper to create the bigger branches.
5. To make wispier branches, blow on the bigger branches from the left & right sides of the paper.
Voila!
You now have winter trees.
Spring Variations on the Winter Trees
TREE # 1
The buds haven't come out yet, but the birds are back. These little birdie images were cut out of a catalog and glue sticked onto the bare branches. You could also use bird stickers, rubber stamp bird images or your own drawings to achieve this look.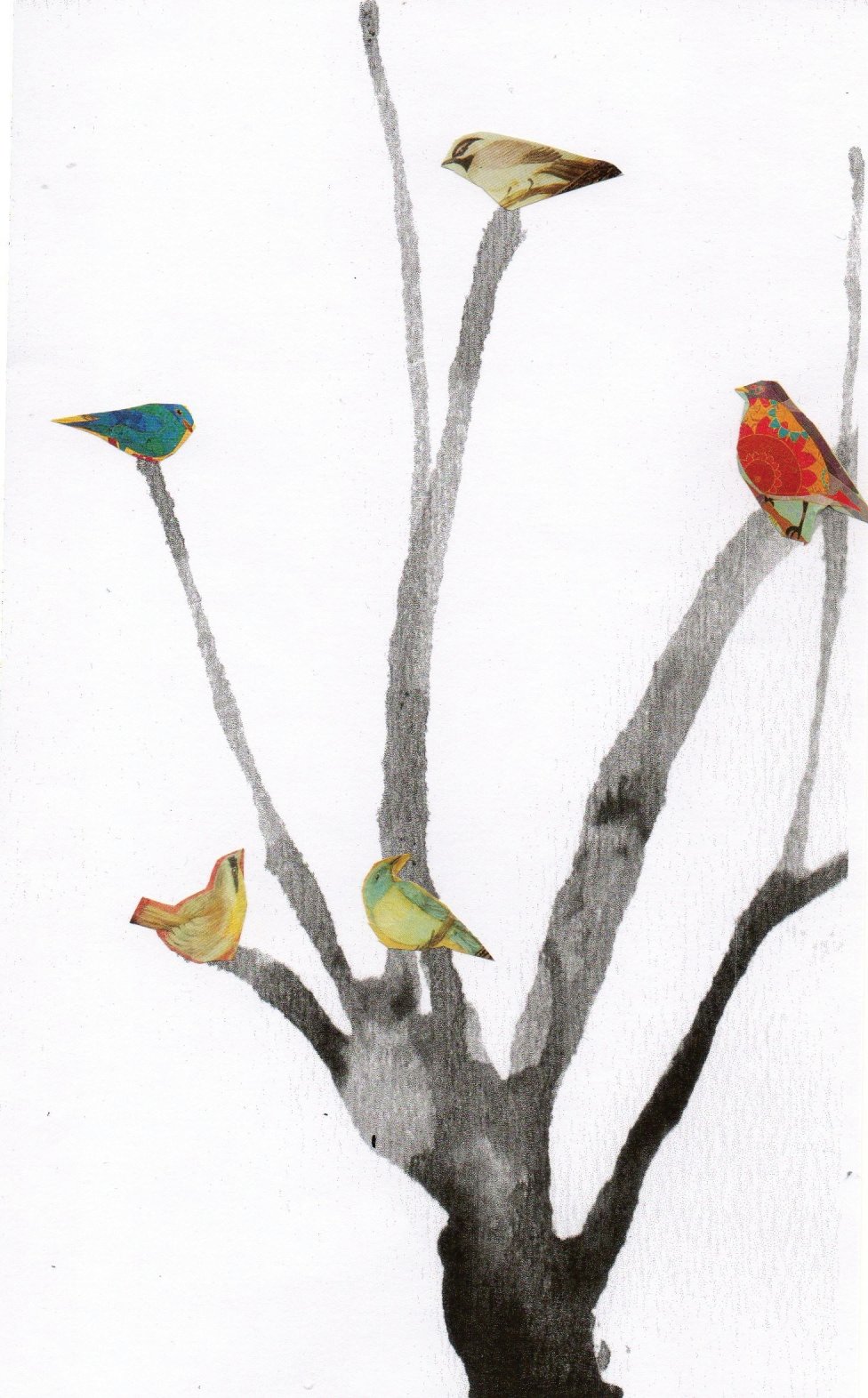 xxxxxxxxxxxxxxxxxxxxxxxxxxxxxxxxxxxxxxxxxxxxxxxxxxxxxxxxxxxxxxxxxxxxxxxxxxxxxxxxxxxxxx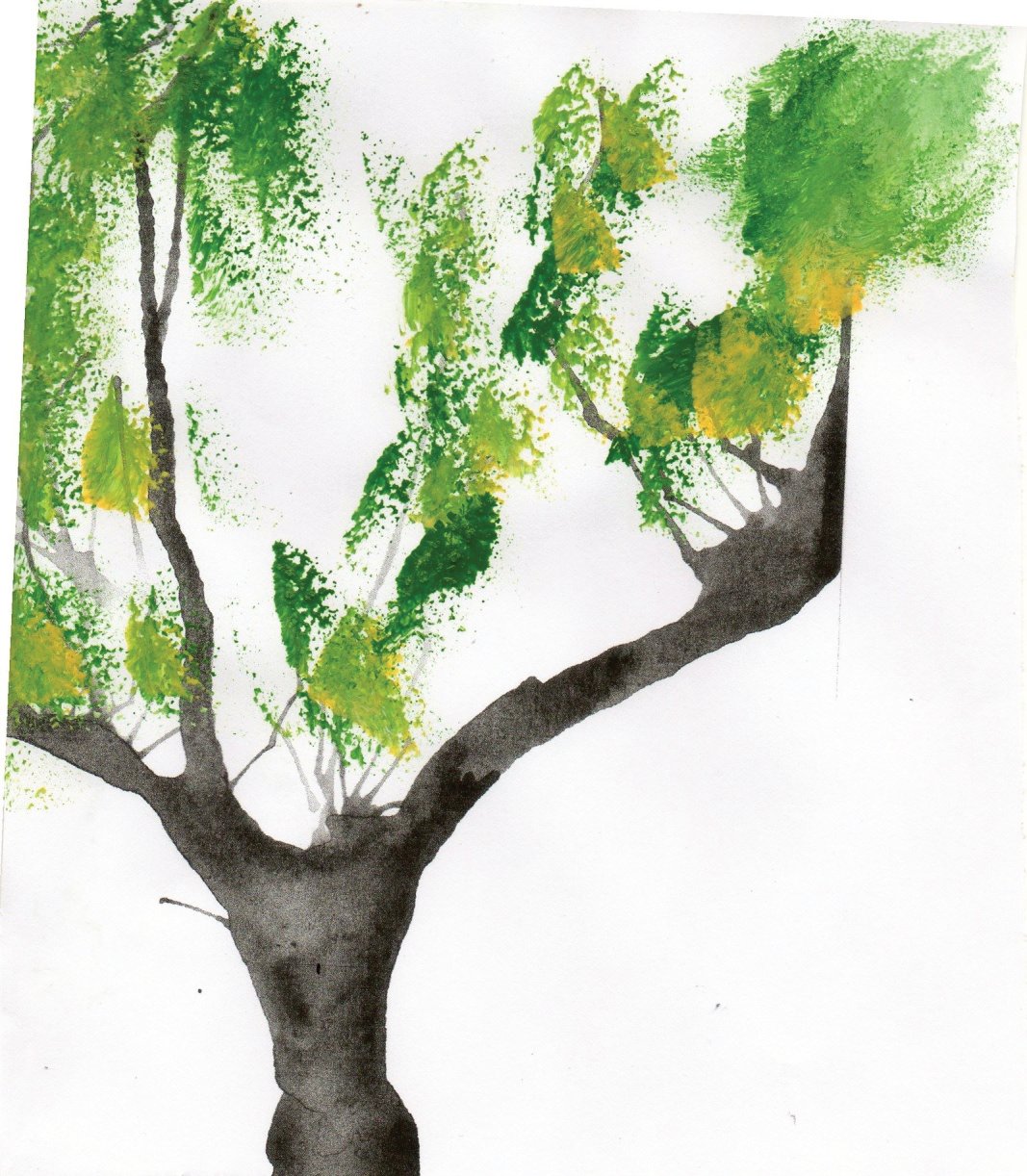 TREE # 2
Finally, we are beginning to see some green. Hooray!
To achieve this effect, put a bit of green, yellow & white acrylic paint onto a coated paper plate.
Dab a small sponge into the paint, slighlty mixing the colors on your sponge. Now lightly dab the sponge onto the bare branches.
You have now created Spring!   Congratulations.
In the Fall, you can do this same project, but use paint colors of  brown, red, yellow & orange.
xxxxxxxxxxxxxxxxxxxxxxxxxxxxxxxxxxxxxxxxxxxxxxxxxxxxxxxxxxxxxxxxxxxxxxxxxxxxxxxxxxxxxx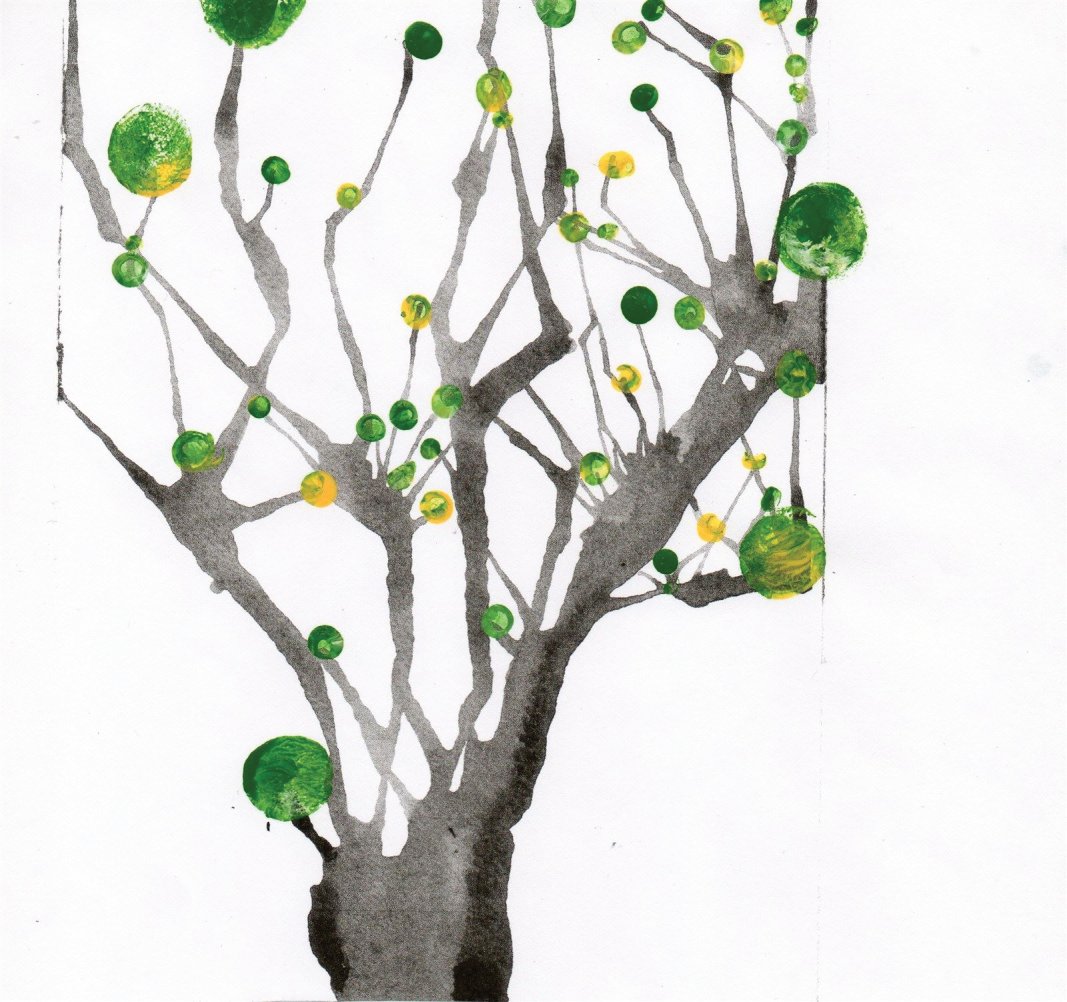 TREE # 3
This tree technique is for those who prefer their artwork to be a little more abstract.
Using the same colors of paint, print different size dots on the bare tree branches with pencil erasers,
Qtips, ear plugs, wine corks......anything round. You could even do this with your fingertips.
Let me know if you come up with other creative things to add to the bare winter branches!
One man's trash is another man's treasure.
I believe this old adage best explains the artistic moniker, "found object".
The term, found object, actually comes from the French objet trouvé, meaning art created from objects that are not normally considered art, often because they already have a non-art function.
When I look at this sculpture, which I found on the blog site, The Crafty Crow  -  
I am transported back to my play group days when one of the moms confessed the secret thought she had every time she heard a little "ding" noise clinking up her vacuum hose......
"That's one less little toy piece I'll ever have to pick up again."
She never realized the veritable treasure trove of art inspiration she was amassing inside that utilitarian dust bag.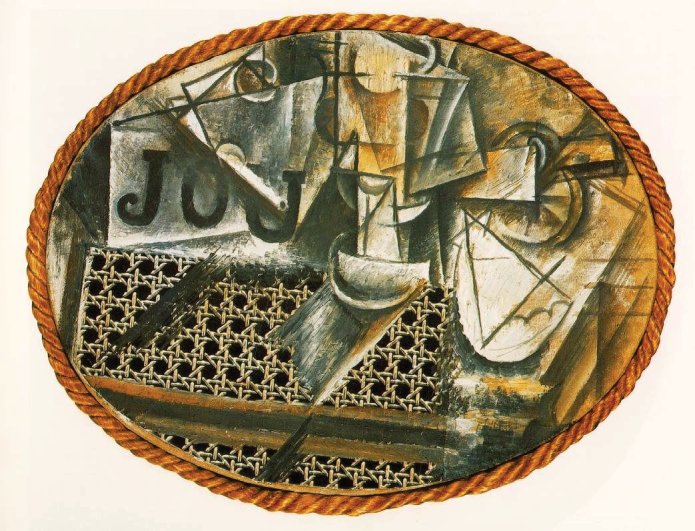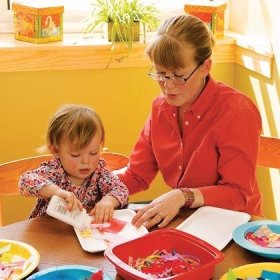 Pablo Picasso  was the first to publicly display the found object concept in 1912, when he pasted a printed oil cloth image of chair caning onto his painting and surrounded it with real roping in
Still Life with Chair Caning.
Pint-Sized Picassos
Let's explore some found object inspiration for your pint-sized Picasso.
(Note the look of deep concentration on the face of this little artist as she's using a squeeze bottle of school glue to attach scrap pieces of paper to a styrofoam base for her found object art creation.)
First of all, here are a few "Fun Art Professor" glue tips:
- Put a little glue in a small disposable cup and have little ones use an art paintbrush to apply glue. It's easier for the tiny fingers then squeezing that big bottle. Plus, it gives them a little bit more control over how much glue is being applied.
-  Rinse & save the dispensing cups from cold medicines to use as glue cups. Perfect size. 
-Set aside some inexpensive art brushes that are used only for glue because they won't be useful for painting after glue usage.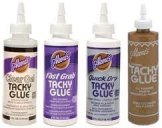 - Typical school glue, like Elmer's, is fine for affixing paper, but you are going to want to use something a little stronger to attach objects that are heavier then paper.
The basic craft adhesive, Tacky Glue, found at craft stores,  is a good product to have on hand.  The "Fast Grab" type of  Tacky Glue is truly fast grab. It is good for even heavier objects, but can be a little more difficult to pour.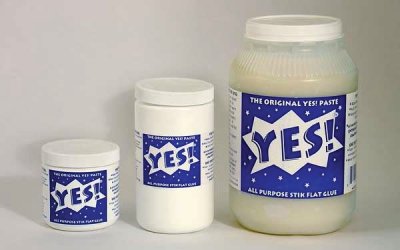 - Yes! Glue  is something you may have never heard about before, but is the best for even heavier objects. It is a great alternative to the hot glue gun, having the same stickability without the risk of a burn. You need to apply it with a small spatula, a popsicle stick or an old butter knife.  It has a very thick consistency.
Yes! Glue Warning ---  Buy the smallest size available. I am still using glue from the pint size that I bought about 15 years ago!  A little goes a long way.
Now for the inspiration..........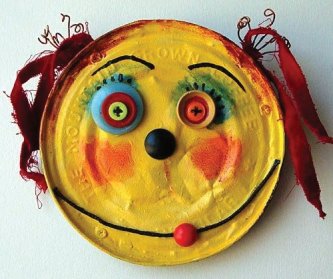 These  were done on tin can lids, but you could easily replicate this art work on a paper plate.
My favorite brand to use for projects like these are the plain white, non-coated Chinet plates. They are sturdy and allow for a greater glue grip.
To further get the creative juices flowing, check out the following sites with your child. These projects are a bit too ambitious for a young artist, but they can spark the imagination.
Have your child point out the different found objects used to create these pieces of art.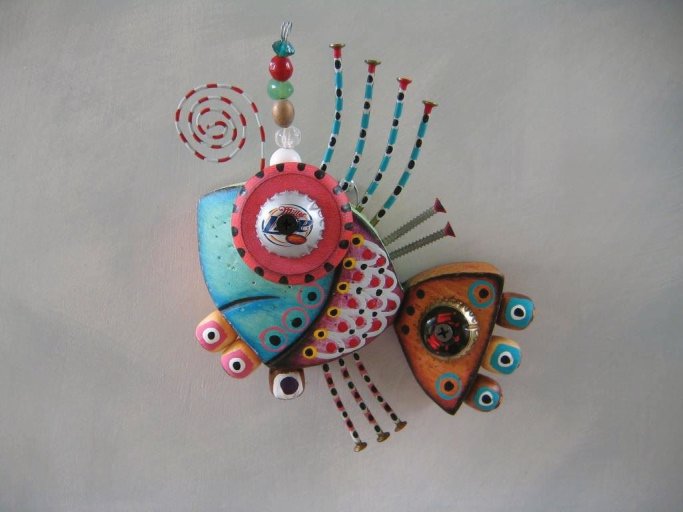 This fish is from
A Patchy Place,  a site dedicated to fun, recycling, art, craft & music.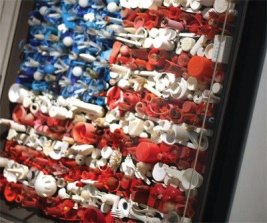 I found this patriotic recycling project at Babble.com, a site subtitled, "for a new generation of parents".
This link features "12 super cool recycled art pieces" .
One Final Warning !
If you are already a pack rat, thinking about found object art is going to worsen your condition. Things that you would normally have no problem chucking into the garbage will have you thinking...."Hmmm, wonder what project we could work this into?"
My advice.... start setting up a designated place to collect all these treasures, either a box, drawer or an art cupboard.
(posts on art cupboards to follow in the near future)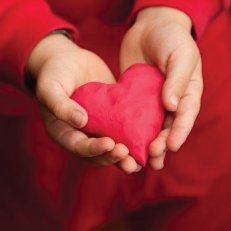 "What insane person invented glitter play-dough?"
                                   - Me

My older daughter was an angel for Halloween when she was five.

Like most little girls, she couldn't wait to try on the glitter speckled nylon mesh wings as soon as they arrived in the mail.


How cute.

How sweet.
How maddening when that glitter started cloning itself all over the house.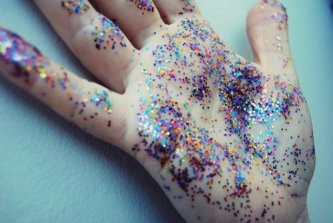 From that point on, glitter was officially banned in our home.

Even Christmas cards we received took a quick trip to the trash can if they were glitter laden.


So you can imagine how thrilled I was when my daughter received glitter play-dough as a birthday gift.
(If you can't figure it out, check out the above quote.)

Commercial Play-dough possesses enough annoying qualities of its own without adding glitter to it!  Besides the fact that its smell triggers my gag reflex, I also have a sneaking suspicion that it shares the "clone- ability DNA" with glitter.

But unlike glitter, play-dough was never banned because it has redeeming   creative qualities.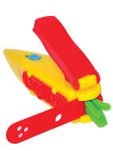 How cool are those fun factories?

And how about discovering very interesting abstract art installations on the bottom of your shoe?
A Perfect Playdough Recipe

Here is a lovely home-made play-dough recipe you can make with your child.


It has no smell and it doesn't seem to dry out when playing with it, leaving  those little chunks all over the place.




Let your child help you mix it up. That's half the fun.

Mix together:

1 cup of flour,
1/3 cup of salt
1 Tablespoon of vegetable oil
2 teaspoons of white vinegar 
1/3 cup of water*

*For color in your dough, add about 1 tablespoon of food color to the water before you add the water to the other ingredients.






Store the dough in an airtight container. You can add more water later if the dough dries out.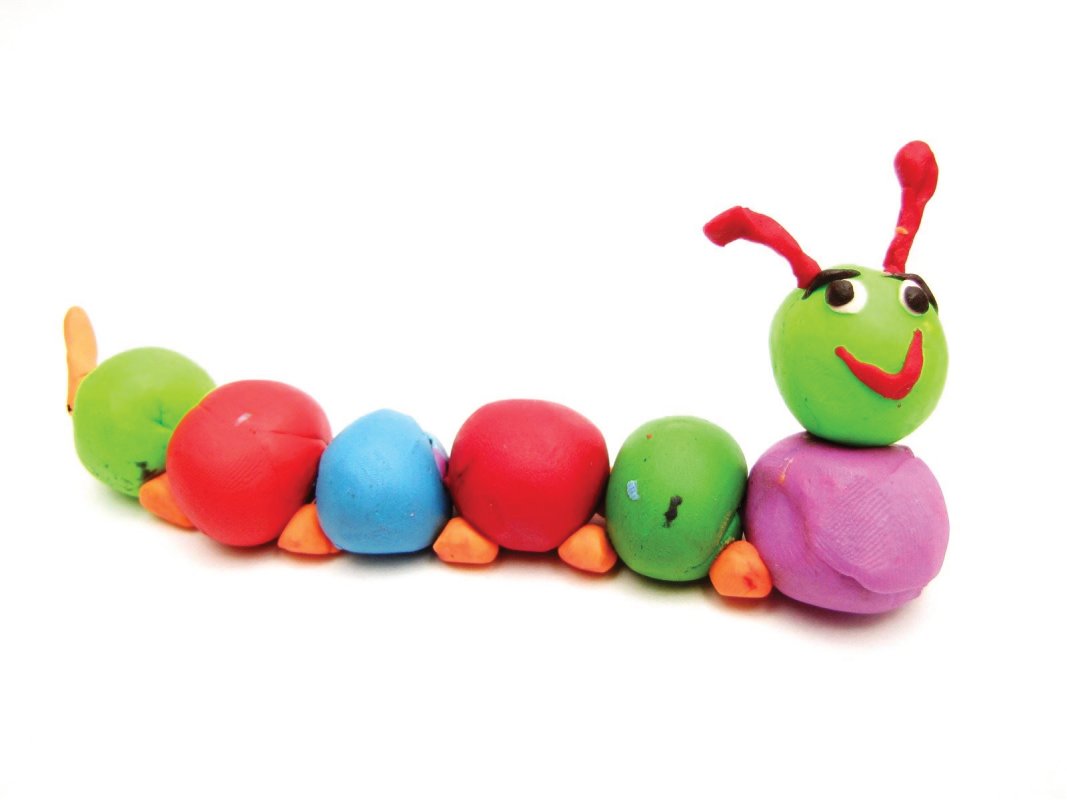 I have not tested how well this dough dries if you want to save a permanent sculpture. Let me know how it works if you try it out.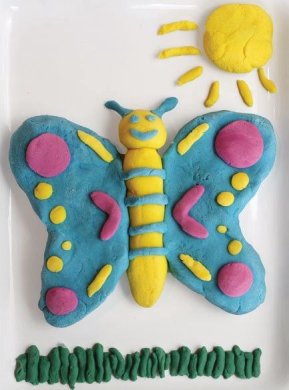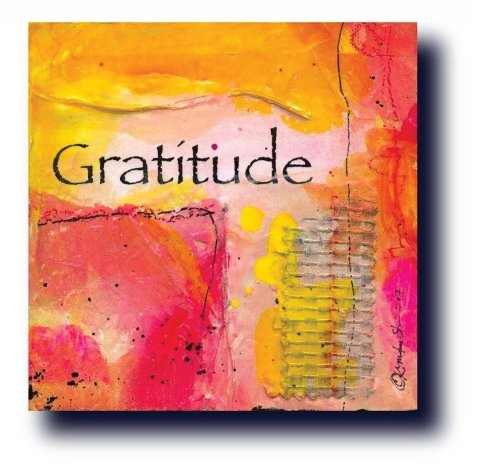 "Things are never so bad that they couldn't be worse."
- my friend Caroline's mother

While on the surface, that may seem to be a horribly pessimistic view of life, after first hearing my friend recount that statement from her mother, and then pondering on it, that phrase has actually become one of my favorite "attitude adjustment quotes."   


No matter how bad things may seem, there is always something to be thankful for.

At about the time when my older daughter was 12, I read the book, Simple Abundance. This book's author reiterated throughout, the importance of being thankful. She highly encouraged the keeping of a gratitude journal, where you would record 5 things, each day, that you were grateful for. I thought that was such a great idea that I trucked right down to the dollar store to buy little spiral notebooks for my children to get them started on their own gratitude journals.

That idea lasted about 3 days.

But I was still sold on the notion of weaving gratitude into the daily lives of our family. Even though, when they were younger, I found Sesame Street, Teenage Mutant Ninja Turtles and Swat Cats to be very effective babysitters (to the point of letting them eat their meals in front of that domestic help)*, our family meal time together had since become sacrosanct. But no matter how sacred I believed that time to be, it was not always an angelic setting.

(*Neither are a recommended parenting practice. I gave birth to 3 children in 4 ½ years and was desperate for any kind of help.)

What to do? What to do?

Ah, ha! No need to wait for Thanksgiving. We started a new family tradition.

Before having our evening meal, we would go around the table, each saying one thing we were grateful for. This always proved to be a great conversation starter and set a nice pleasant mood for our repast. They say it takes doing something 21 days in a row for it to become a habit. Happily, this one stuck.

I believe it's never too early to instill your children with the gift of gratitude. One fun way to do this with them is to make a gratitude collage. (see my posts on gratitude collages under the "Artful Images Category " for ideas)

You can easily gather pictures from catalogs, magazines, Google images search or family photos. You can even include printed words from those sources. Glue them onto poster board with Mod Podge (a special glue for decoupage that you can find in any craft store or craft section of Wal-mart).

You could also take this one step further and cut the collage into the size of a placemat. Cover it with clear contact paper. You can then use it as part of your dinnertime table setting.

And how about a sweet dreams starter? Get some inexpensive plain white pillow cases and fabric paint in assorted colors. On the border edge of the pillow case, have your child paint images that remind him or her of what to be thankful for…..hearts for the love in their life, flowers for beauty, rainbows for hope, stars for light in the dark, etc.

Stencils are a great tool to use for this project. Remember, this is "fun" art, not "fine" art.

If your child is still a little young for this project, you can make him or her the art director, instructing mom or dad what to draw on the pillowcase.

I did this once when my very feminine 2 ½ year old refused to wear her black slip-on sneakers. (They weren't girly enough for her taste.) She showed me where she wanted bunnies, flowers and hearts.

I whipped out my handy stencils and followed her directions. She then happily complied with my request that she wear her new designer shoes.


I would like to  end these musings on gratitude with this whimsical saying from a sign in the Mayflower Coffee Shop in Chicago that you can share with your children.


 "As you wander on through life, sister/brother, whatever be your goal, keep your eye upon the doughnut, and not upon the hole."




/