Shopping Cart
Your Cart is Empty
There was an error with PayPal
Click here to try again
Thank you for your business!
You should be receiving an order confirmation from Paypal shortly.
Exit Shopping Cart
Fun Art Professor
Inspiring & Nurturing Creativity in Young Chidren
| | |
| --- | --- |
| Posted on March 1, 2013 at 11:32 AM | |
One man's trash is another man's treasure.
I believe this old adage best explains the artistic moniker, "found object".
The term, found object, actually comes from the French objet trouvé, meaning art created from objects that are not normally considered art, often because they already have a non-art function.
When I look at this sculpture, which I found on the blog site, The Crafty Crow  -  
I am transported back to my play group days when one of the moms confessed the secret thought she had every time she heard a little "ding" noise clinking up her vacuum hose......
"That's one less little toy piece I'll ever have to pick up again."
She never realized the veritable treasure trove of art inspiration she was amassing inside that utilitarian dust bag.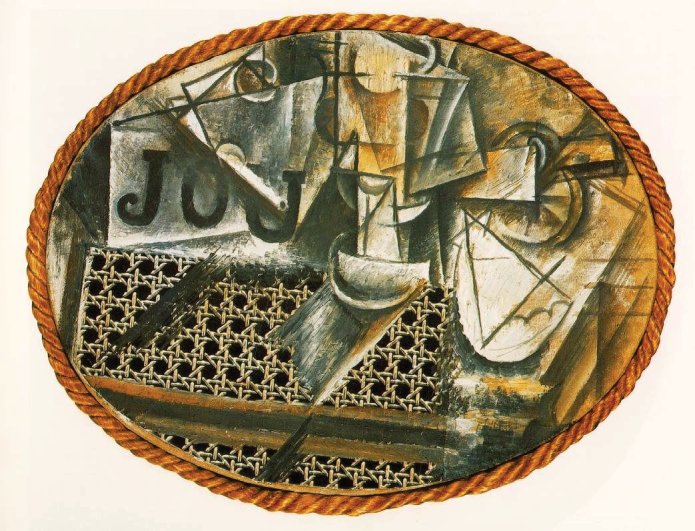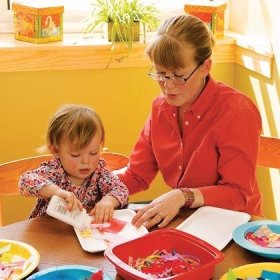 Pablo Picasso  was the first to publicly display the found object concept in 1912, when he pasted a printed oil cloth image of chair caning onto his painting and surrounded it with real roping in
Still Life with Chair Caning.
Pint-Sized Picassos
Let's explore some found object inspiration for your pint-sized Picasso.
(Note the look of deep concentration on the face of this little artist as she's using a squeeze bottle of school glue to attach scrap pieces of paper to a styrofoam base for her found object art creation.)
First of all, here are a few "Fun Art Professor" glue tips:
- Put a little glue in a small disposable cup and have little ones use an art paintbrush to apply glue. It's easier for the tiny fingers then squeezing that big bottle. Plus, it gives them a little bit more control over how much glue is being applied.
-  Rinse & save the dispensing cups from cold medicines to use as glue cups. Perfect size. 
-Set aside some inexpensive art brushes that are used only for glue because they won't be useful for painting after glue usage.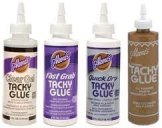 - Typical school glue, like Elmer's, is fine for affixing paper, but you are going to want to use something a little stronger to attach objects that are heavier then paper.
The basic craft adhesive, Tacky Glue, found at craft stores,  is a good product to have on hand.  The "Fast Grab" type of  Tacky Glue is truly fast grab. It is good for even heavier objects, but can be a little more difficult to pour.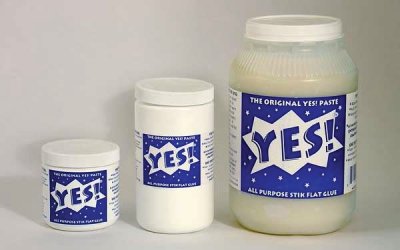 - Yes! Glue  is something you may have never heard about before, but is the best for even heavier objects. It is a great alternative to the hot glue gun, having the same stickability without the risk of a burn. You need to apply it with a small spatula, a popsicle stick or an old butter knife.  It has a very thick consistency.
Yes! Glue Warning ---  Buy the smallest size available. I am still using glue from the pint size that I bought about 15 years ago!  A little goes a long way.
Now for the inspiration..........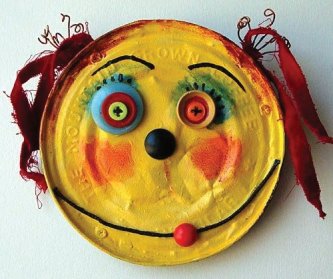 These  were done on tin can lids, but you could easily replicate this art work on a paper plate.
My favorite brand to use for projects like these are the plain white, non-coated Chinet plates. They are sturdy and allow for a greater glue grip.
To further get the creative juices flowing, check out the following sites with your child. These projects are a bit too ambitious for a young artist, but they can spark the imagination.
Have your child point out the different found objects used to create these pieces of art.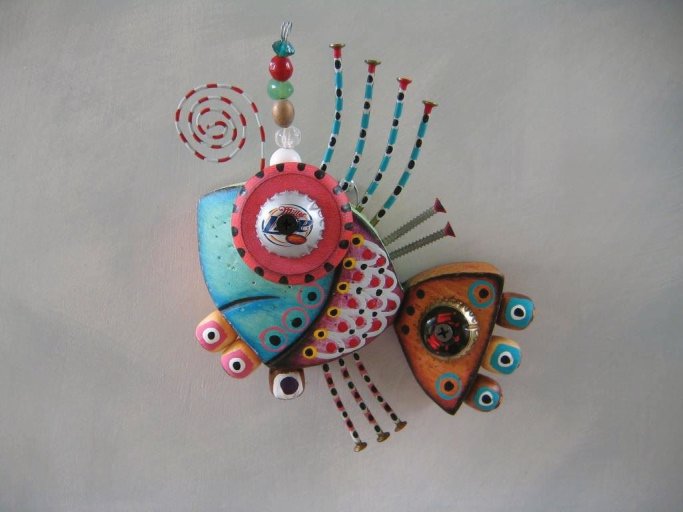 This fish is from
A Patchy Place,  a site dedicated to fun, recycling, art, craft & music.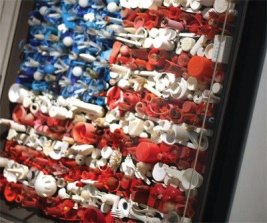 I found this patriotic recycling project at Babble.com, a site subtitled, "for a new generation of parents".
This link features "12 super cool recycled art pieces" .
One Final Warning !
If you are already a pack rat, thinking about found object art is going to worsen your condition. Things that you would normally have no problem chucking into the garbage will have you thinking...."Hmmm, wonder what project we could work this into?"
My advice.... start setting up a designated place to collect all these treasures, either a box, drawer or an art cupboard.
(posts on art cupboards to follow in the near future)
Categories: Art Project Ideas
/