Shopping Cart
Your Cart is Empty
There was an error with PayPal
Click here to try again
Thank you for your business!
You should be receiving an order confirmation from Paypal shortly.
Exit Shopping Cart
Fun Art Professor
Inspiring & Nurturing Creativity in Young Chidren
| | |
| --- | --- |
| Posted on April 3, 2013 at 6:39 PM | |
Spring came slowly to the Northeast in 2013.
Wanted posters starting circulating on Facebook for Punxsutawney Phil – the crime – FRAUD.
Mother Nature's April Fool's joke was a night time low of 32 degrees with a wind chill in the teens.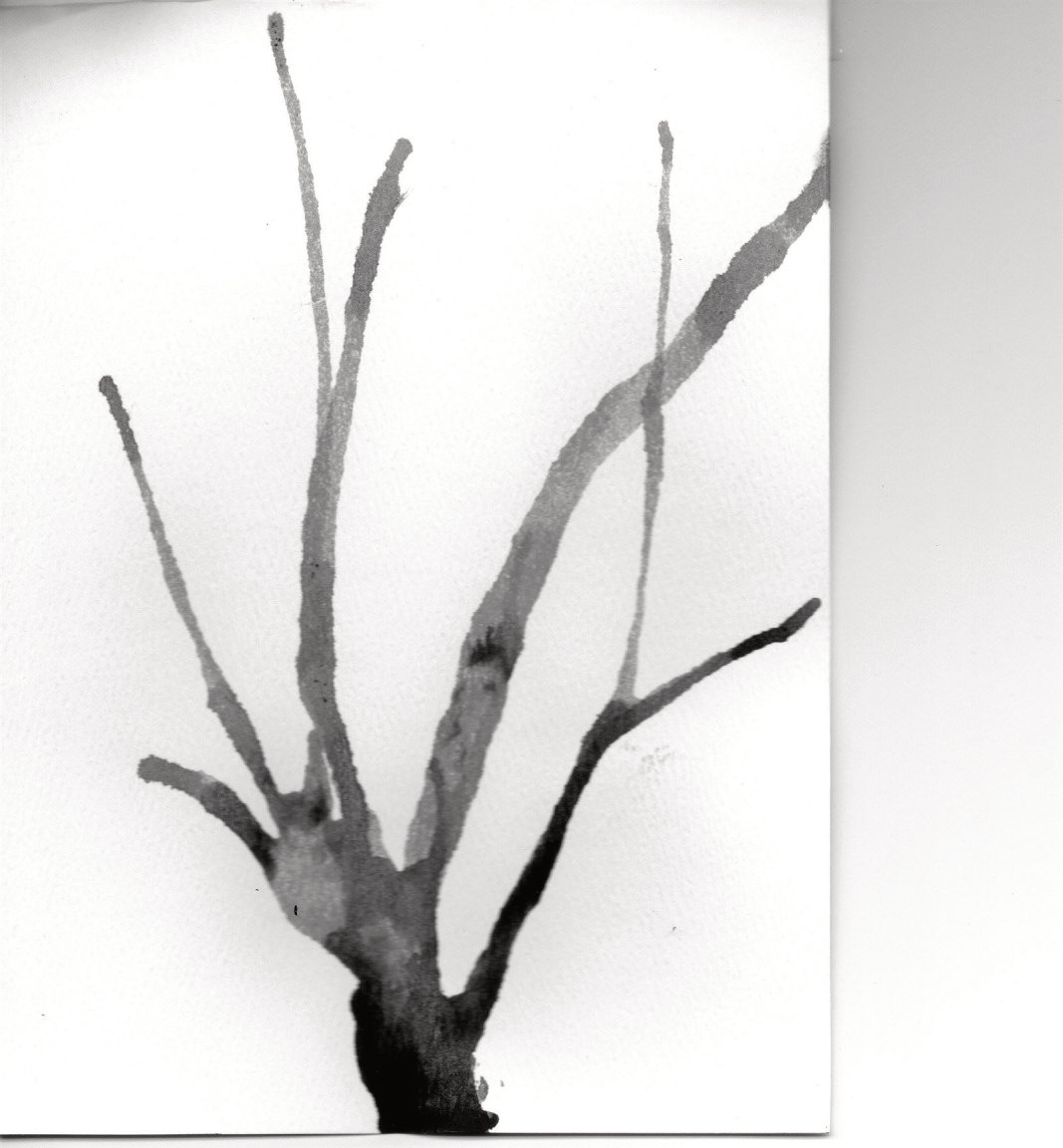 Bare black branches of the trees still stood out against white skies that promised some form of precipitation.
Two days before Easter Sunday, I excitedly exclaimed that I saw little green leaves beginning to sprout on a bush next to the front of our house.
Then, I realized that it wasn't new growth. It was the remains of a near total stripping of our holly bush by a family of deer that had been coaxed in that direction by a bag of salt on our porch, meant for de-icing the sidewalk.
An Artful Activity to Encourage Spring Along
Let's pretend we can take an active part in helping speed Spring's arrival. Even if it doesn't work, at least we will have distracted ourselves away from the feelings of cabin fever for a little while.
The winter tree image on this post is done by a technique known as
"straw painting".  This technique is super easy & super fun for anyone,
 age 2 and above. 
1. Mix a few drops of black acrylic paint, also known as craft paint,
    with 2-3 tablespoons of water.
2. Cut a piece of watercolor paper in half or into fourths.
 (The cutting is merely for economy sake. You can do straw painting on regular white paper or construction paper, but the effects are not as nice.)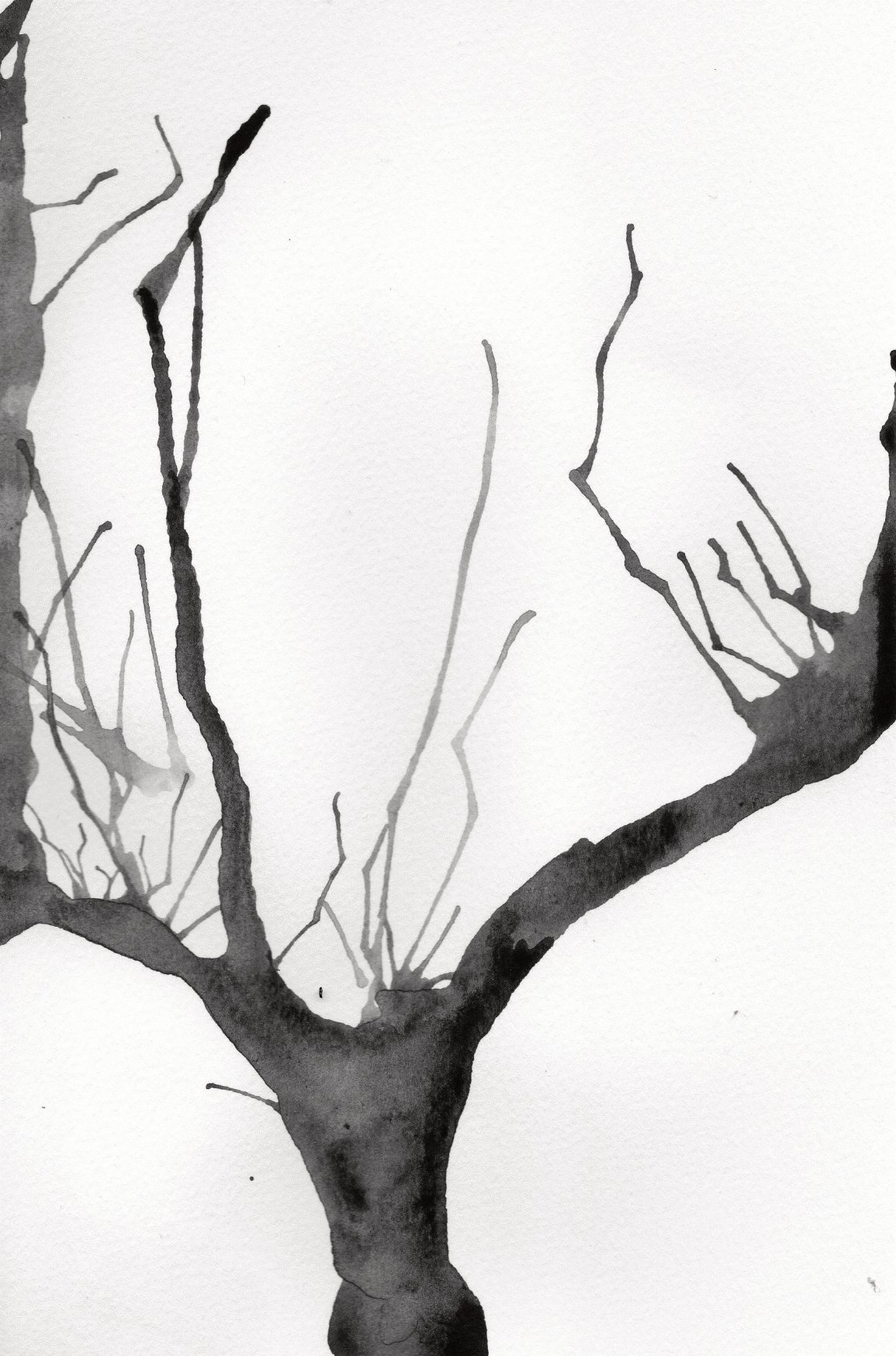 3. Drip a few drops of the blackened water at the bottom of the paper. This will form the trunk of the tree.
4. With a straw, blow upwards towards the top of the paper to create the bigger branches.
5. To make wispier branches, blow on the bigger branches from the left & right sides of the paper.
Voila!
You now have winter trees.
Spring Variations on the Winter Trees
TREE # 1
The buds haven't come out yet, but the birds are back. These little birdie images were cut out of a catalog and glue sticked onto the bare branches. You could also use bird stickers, rubber stamp bird images or your own drawings to achieve this look.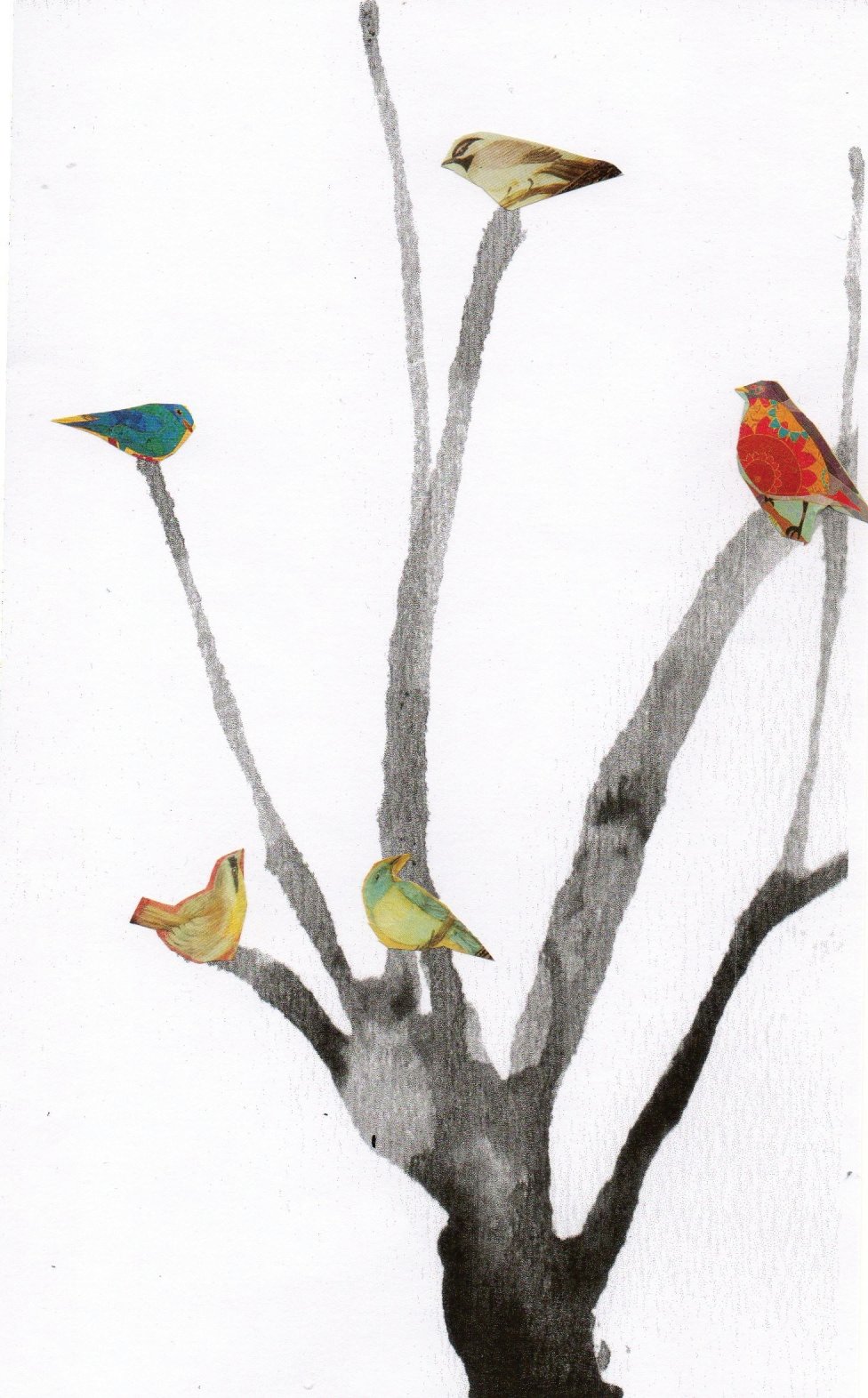 xxxxxxxxxxxxxxxxxxxxxxxxxxxxxxxxxxxxxxxxxxxxxxxxxxxxxxxxxxxxxxxxxxxxxxxxxxxxxxxxxxxxxx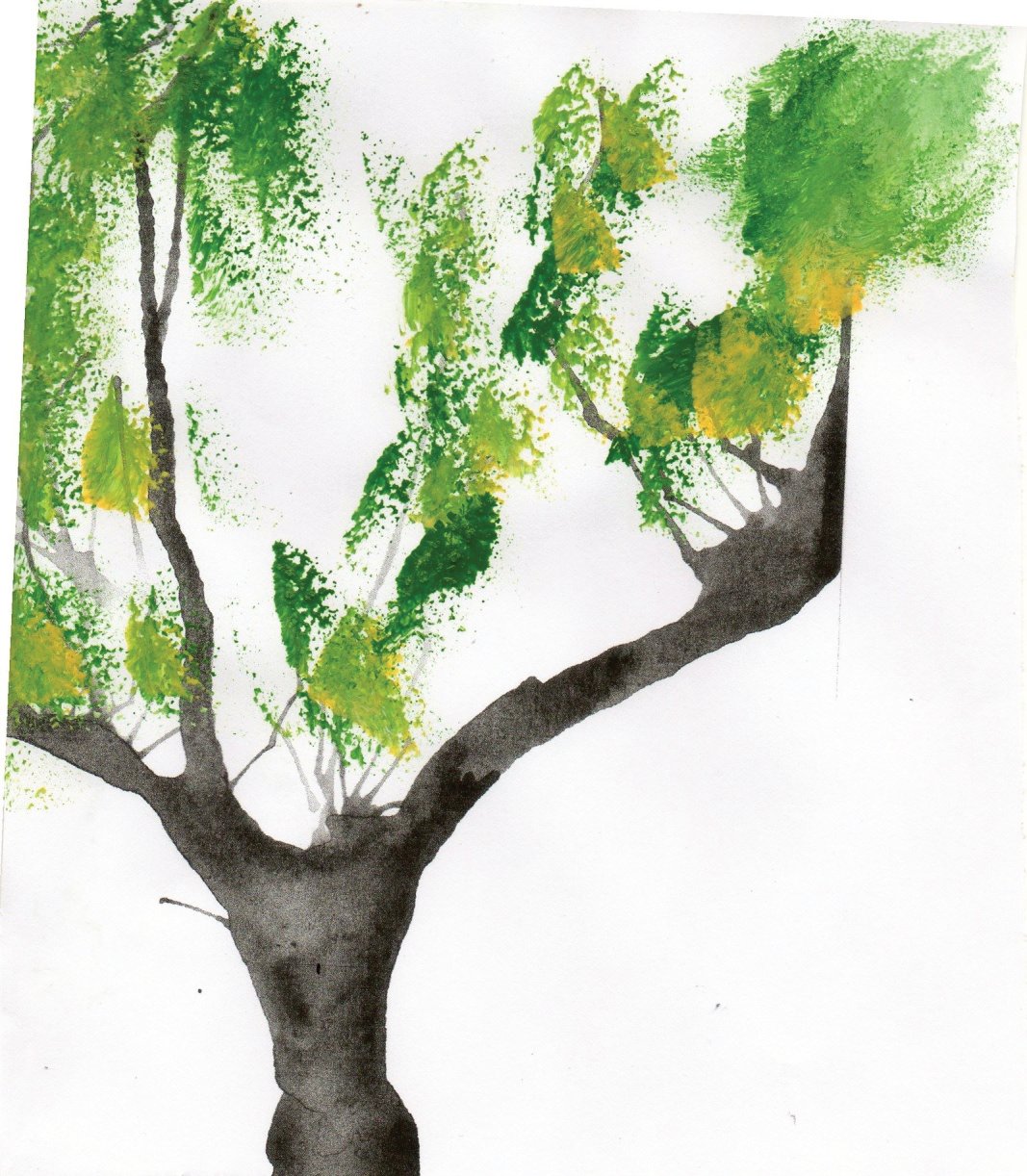 TREE # 2
Finally, we are beginning to see some green. Hooray!
To achieve this effect, put a bit of green, yellow & white acrylic paint onto a coated paper plate.
Dab a small sponge into the paint, slighlty mixing the colors on your sponge. Now lightly dab the sponge onto the bare branches.
You have now created Spring!   Congratulations.
In the Fall, you can do this same project, but use paint colors of  brown, red, yellow & orange.
xxxxxxxxxxxxxxxxxxxxxxxxxxxxxxxxxxxxxxxxxxxxxxxxxxxxxxxxxxxxxxxxxxxxxxxxxxxxxxxxxxxxxx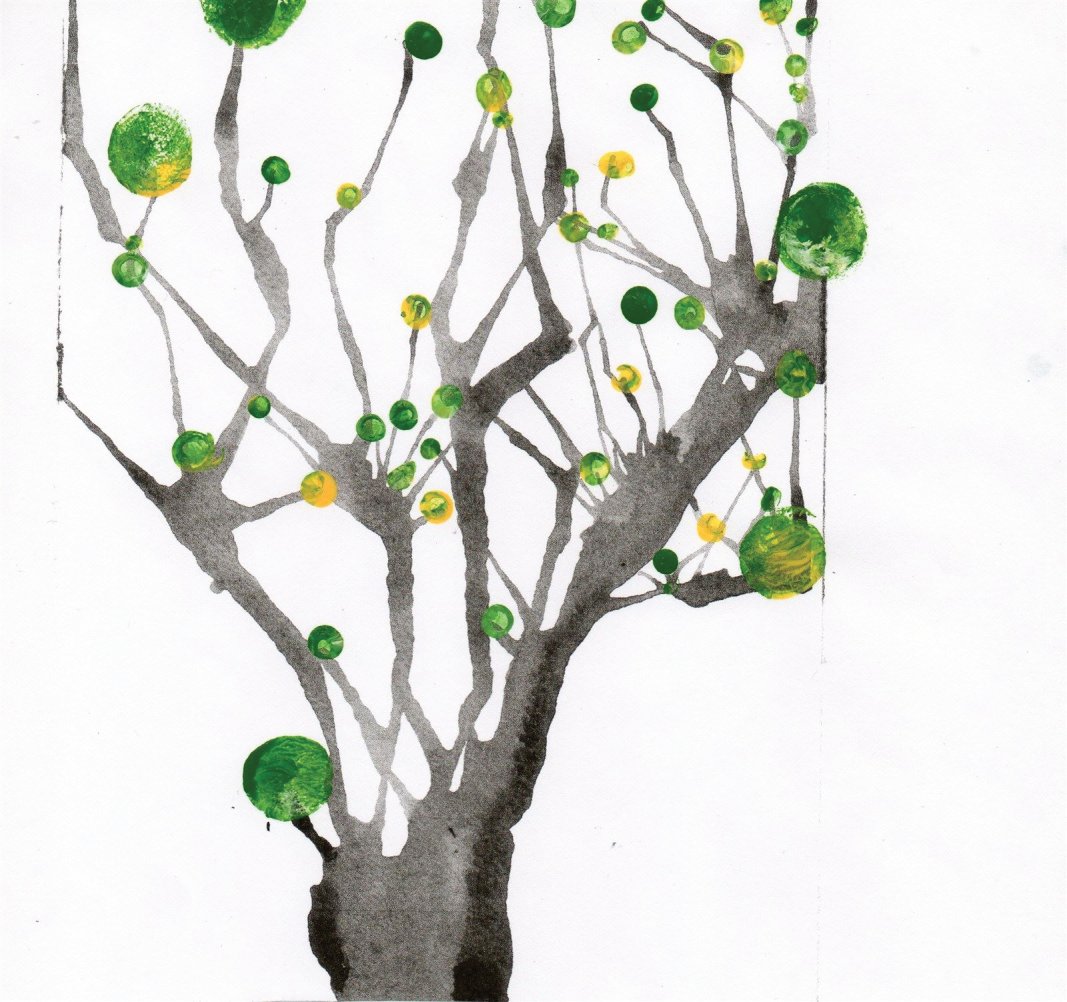 TREE # 3
This tree technique is for those who prefer their artwork to be a little more abstract.
Using the same colors of paint, print different size dots on the bare tree branches with pencil erasers,
Qtips, ear plugs, wine corks......anything round. You could even do this with your fingertips.
Let me know if you come up with other creative things to add to the bare winter branches!
Categories: Art Project Ideas
/